Welcome to Town Clerk Software, a subsidiary of Software Interphase, Inc.
Since 1985, Software Interphase has been developing programming tools and custom applications for a large number of customers. With over three years in development, the newest line of town clerk software is designed to make business licensing, probate, dog licensing, and vital statistics (deaths, marriages and civil unions) very easy to manage. Our town clerk software is a full-blown Visual Basic application and offers many features and shortcuts not capable in similar products developed in Microsoft Access. We feel so confident you'll like our software that we offer a FREE 60 days use of the program (Rhode Island towns only).
We also have a truck scale management package for managing town transfer stations and provides the department of public works the capability for invoicing the transactions. Information on our TWOS package can be found here.
Teaser screen for the Town Clerk Software system: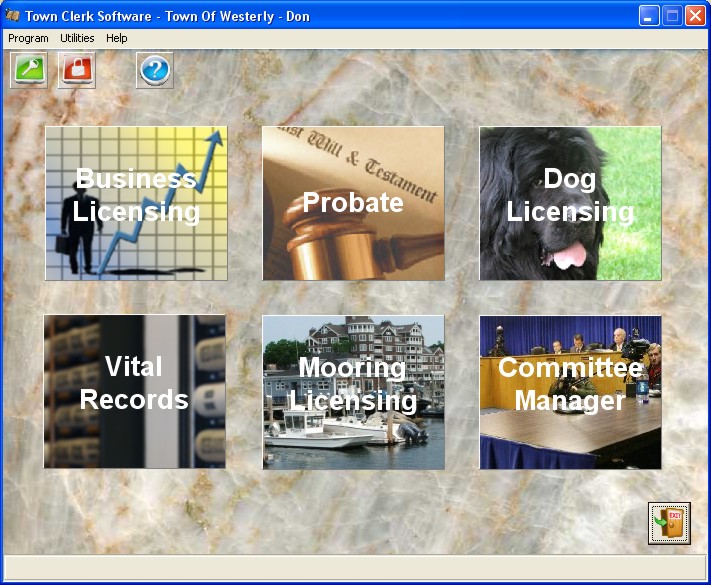 ---
News
June 2015 - We've completed the One Time Events feature in business licensing. It supports events configurable using a popup yearly calendar. Each town can define events specific to the town (such as Itinerant Vendor, church bazaars, etc) and set fees. Class F licensing is supported. Will also print a license certificate for the event.
April 2012 - We'd like to thank the Town of West Greenwich and the Town of Narragansett for choosing Town Clerk Software for their needs.
October 2011 - Town Clerk Software now has several Rhode Island towns using the software. The TCS Vitals module now has support for the new Department of Health civil union forms and marriage forms. Unlike the state's PDF-form fill document for generating civil unions and marriages, our software databases the information you enter, prints out the state form, and allows you to scan the worksheet and final marriage/civil union certificate so that certified copies can be issued at a later date.
If you already have a system and are not satisfied with it, we'll help convert your data to our system. Currently we are only servicing Rhode Island cities and towns because of adoption of local laws.

---
Our Mission
To provide towns with low cost, easy-to-use software for managing business licenses, probate, dog licenses, deaths, marriages, and civil unions. We provide importing of existing data to our package and customization to fit your particular needs.
---
Contact Information
Don Lambert, President
Postal address

35 South Killlingly Rd, Foster, RI 02825

Electronic mail

General Information: info@townclerksoftware.com
Sales: sales@townclerksoftware.com
Customer Support: support@townclerksoftware.com
Webmaster: sinterphas@aol.com